It was a proud moment to learn that Sysdig has achieved 3 Best Place to Work Awards in the 2022 Comparably Awards competition. What makes this extra meaningful is that the awards are based on survey input from our own employees who shared their personal perspectives on many facets of life at Sysdig.
Sysdig achieved Best Place to Work awards in the following categories:
Work life balance
Compensation
Company perks and benefits
These awards are determined by employee feedback collected over the past year and sentiment ratings anonymously submitted to Comparably, a workplace culture and compensation monitoring platform for public and private companies.
How we rank against the competition
Out of Sysdig's 700+ employees worldwide, over 150 employees submitted reviews to Comparably, which was then judged against their database of more than 70,000 companies. In addition to being recognized as a top 100 company in the above three categories, Comparably ranks Sysdig ahead of all large cloud-native security companies in the following areas:
Overall Culture Score
Employee NPS
Gender Score
Diversity Score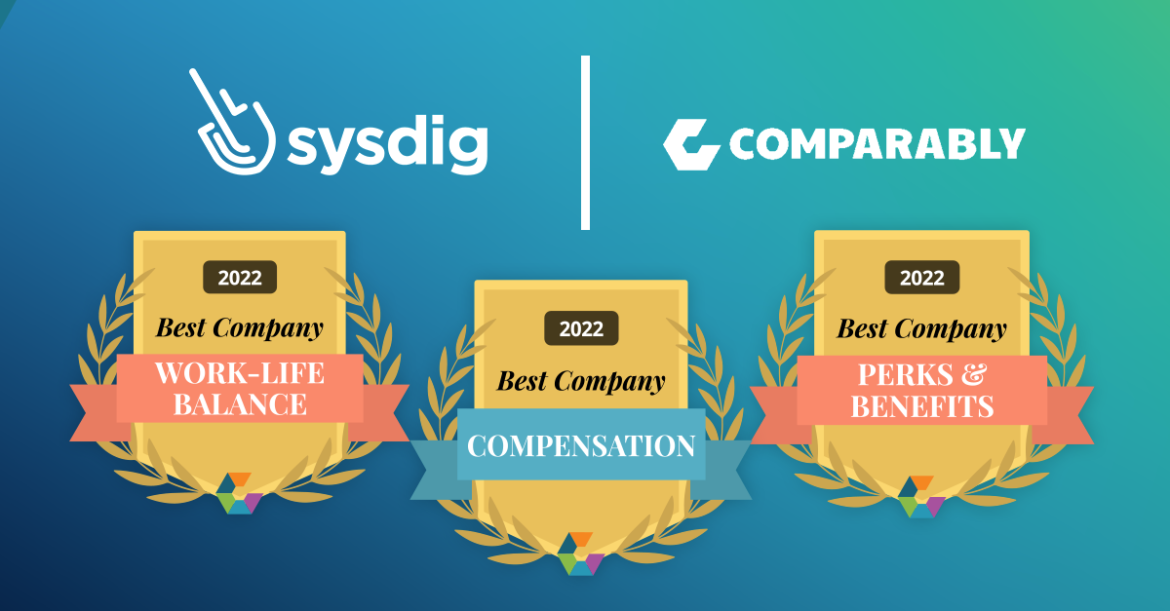 What is important to us
At Sysdig, our unique culture energizes us to tackle our mission of making every cloud deployment secure and reliable. Our success is driven by our three core values that we believe in deeply.
Love our customers
Dig deeper
Trust in the team
We strive to insert our values in every aspect of how we live and work at Sysdig and the intentionality of how we approach this is foundational to the positive feedback illustrated in Sysdig's Comparably ranking.
Work-Life Balance
The way in which work gets done in organizations has radically changed in the last few years. Even as we enter a post pandemic world, our employee surveys clearly tell us that some of those changes will remain with us for some time to come. This blurring of work/life boundaries creates challenges for people in how they maintain an appropriate balance. At Sysdig, we dont believe in mandating a return to office, but prefer to trust our team members to know how best to accomplish their goals and when to collaborate in person. Sysdig supports employee work/life balance by offering additional global wellness days (and, as a distributed company, we ensure these extra days align to global national holidays so the opportunity for long weekends is shared around the world), and provide employees a generous monthly stipend which can be used for home working expenses or any other wellness purposes (e.g. family meals, gym memberships, etc.).
As a regular topic of conversation among our leadership teams, we ensure that cultivating a healthy work/life balance for Sysdig employees remains an ongoing priority, and we continue to try out new approaches and initiatives to support this objective.
Compensation
Whether it be the great resignation, the fear of global economic trends or just the desire to do something different, companies everywhere are experiencing heightened attrition. Retaining top talent is a clear priority for Sysdig and while investing in culture, career development and work/life balance are important areas for us, nothing is more fundamental than compensation. Truthfully, we are still evolving our approach to pay transparency — this is a hot topic we are working on right now, but we have been very thoughtful in our approach to benchmarking and setting compensation across the multiple geographies we operate in, with the goal of offering market competitive pay to all employees. It was gratifying to see that Sysdig employees feel that this is an area where we are doing well (compared to other similar companies). Another one of our core values is Love Our Customers, which we see Sysdiggers display whenever they respond to customer issues; but by paying attention to things that are important to our people (compensation included), we want to ensure that Sysdig employees feel the love as well.
Company Perks & Benefits
One of our values that could be misunderstood is "Dig Deeper." The assumption could easily be that this just means "work harder" — and while we know Sydsiggers are indeed a hard working group, the true intent of this value statement is a reference to the grit and determination it takes to build a successful start up; setting bold goals and persevering until the goal is accomplished. This value can sometimes feel like a big ask of Sysdig employees, so it is therefore a reasonable expectation that Sysdiggers receive a lot of support in return. Our benefits programs are designed to do exactly that. Whether it be the wellness days or monthly stipend mentioned above, our competitive time off policies, the provision of professional mental health support to all Sysdiggers and their families through our partnership with Modern Health, or the comprehensive general benefits coverage we provide; our goal is to ensure that all employees know that Sysdig has got their back and we are ready to Dig Deeper to support them.
As CHRO for Sysdig, I could not be prouder of the team we have built here and for the trust the team shows in the company as illustrated by these Comparably awards.
Sounds like a great place to work?
Join us, we're hiring!
To learn more about how employees rank Sysdig, please check us out on Comparably!